About us
The Thai cuisine is the forte of Eat Thai restaurant. We are located at 358 Victoria St, Darlinghurst NSW, and we are available for pickup and delivery services on all days of the week. We offer a variety of Thai dishes in our menu, which includes our entree, soups, salads & BBQ, curries, stir-fry, noodles, rice dishes and our chef specials. Sample our recommended chef specials that include the Crispy Pork Belly with Chinese Broccoli, Salt & Pepper Squid, Salt & Pepper King Prawns, Magic Greens, Spicy Duck, Stir Fried Mixed Seafood, Marinated Grilled Lamb Cutlet, Deep Fried Barramundi, Black Bean Chicken, and a whole lot more. Click on the order online button now to view our whole menu.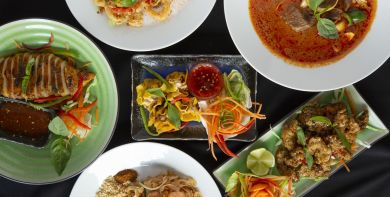 Reviews
Sarah
"Seriously good food. Super tasty and great quality. Always a winner :)"
13/12/2019
Caine
"Super quick delivery. Crying Tiger, Pad Thai and Seafood Laksa all excellent. Can't complain about anything."
23/11/2019